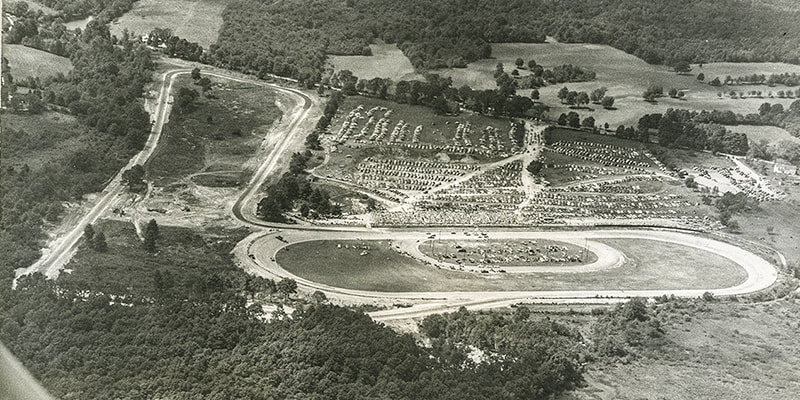 Thompson Speedway Motorsports Park (TSMP) is one of short-track racing's oldest and most historic tracks, located right here in Connecticut! Opening in 1940 and hosting its first race in 1951, Thompson hosts six oval-track events each year, including Modifieds, Late Models Street Stocks and more.

The owners and operates of the American-Canadian Tour (ACT) and Pro All Star Series (PASS) have leased the track and will continue to run operations for a third straight year in 2022.

Nestled in the heart of Modified country, Thompson's top local division features drivers racing in the Sunoco Modifieds. Known for their low, aggressive and open-wheel stance, the Modifieds have featured NASCAR National champions like Keith Rocco and the late Ted Christopher. Rocco has nine Thompson track titles, capturing yet another in 2021. 

Showcasing TSMP's top-tier fendered racecars, the Late Model division, based off the ACT Tour rules, is known for its side-by-side racing and late-race entertainment. With a rules package that mirrors a large amount of the tracks in the New England region, car counts are often up and that produces even more exciting racing on the track.

The SK Light Modifieds look similar to Sunoco Modified by the eye, but under the hood, they are a different beast. This division is great for a learning experience before a driver makes their way to the Sunoco Modifieds or the Tour-Type Modifieds, and often houses some of the rising stars of the sport. 
Big car counts, wheel-to-wheel racing, and edge-of your-seat excitement have long been the trademarks of Thompson's Limited Sportsman division. Though Shawn Monahan had won two straight titles in '17 & '18, Kyle Gero stormed into championship form, claiming the title in 2019. After only two races in 2020 due to COVID-19, Larry Barnett rocketed to his fourth championship in 2021 in one of the most exciting title battles yet, going right down to the final lap of the season.

Former street cars with roll cages and racing parts, the Mini Stock racecars are TSMP's entry level division. Ripe with young talent and seasoned with experience, these four-cylinder power plants give breed to thrilling three-wide competition. 

Known for racing excellence, Thompson Speedway Motorsports Park hosts two of the region's largest events: the Icebreaker & the Sunoco World Series of Speedway Racing each year. Nationally recognized by fans as one of the country's best events, the Sunoco World Series of Speedway Racing features countless divisions of competition, including the championship events for all five weekly divisions. In 2022, it will also include the return of the historic Thompson 300, a 300-lap Modified race in the Outlaw Open Modified Series worth $20,000 to win, for the second straight year.

As part of the oval track history, Thompson Speedway has showcased the NASCAR Whelen Modified Tour 148 times since 1985. In 2022, the series will return to Thompson for two races — a Wednesday night special in August and a stop at the World Series in October. Thompson has also housed events for the ARCA Menards Series East, NASCAR Cup Series and more over the years.

Our history is rich, and our tradition lives on. We invite you to come and be part of oval track racing at Thompson Speedway Motorsports Park!