Watson, Viens take Open Wins, Kopcik Makes it 4-for-4 and Perry Crowned 2022 MRS Champ
Thompson, CT — Night number one of the 60th Sunoco World Series presented by Budweiser started off the iconic Thompson Speedway season-ender with a bang as two champions were crowned and another championship, inside a championship, began.
Following a return to yesteryear with the Senior Tour Auto Racers (S.T.A.R.), the Thompson Late Models took to the field led by Mike Benevides and Brian Tagg. At the green flag, following heat race qualifications, Derek Gluchacki held a narrow seven-point lead over defending champion Ryan Morgan as the 18-car field thundered to the starting line. Benevides went on the defense early, squeezing Woody Pitkat into Nick Johnson coming three-wide out of turn two, sending Johnson careening into the wall while collecting Tagg and Donald Macrino.
On the restart John Lowinksi-Low took over the lead from Gluchacki before the young-gun jumped back into the lead on lap 3 followed by a hard-charging Morgan and Tom Carey III. The second yellow would fly on lap 14 for the spinning 38MA of Seekonk Speedway regular Connor Souza. The restart would pit Gluchacki against Morgan as the two came to the line dead-even before three-wide racing in turns one and two involving both Lowinski-Low and Carey. Morgan would sneak through the tangle and lead all the way to the end to claim the World Series victory over Gluchacki and Tom Carey III. Both Ryan Morgan and Derek Gluchacki were tied atop the Late Model standings.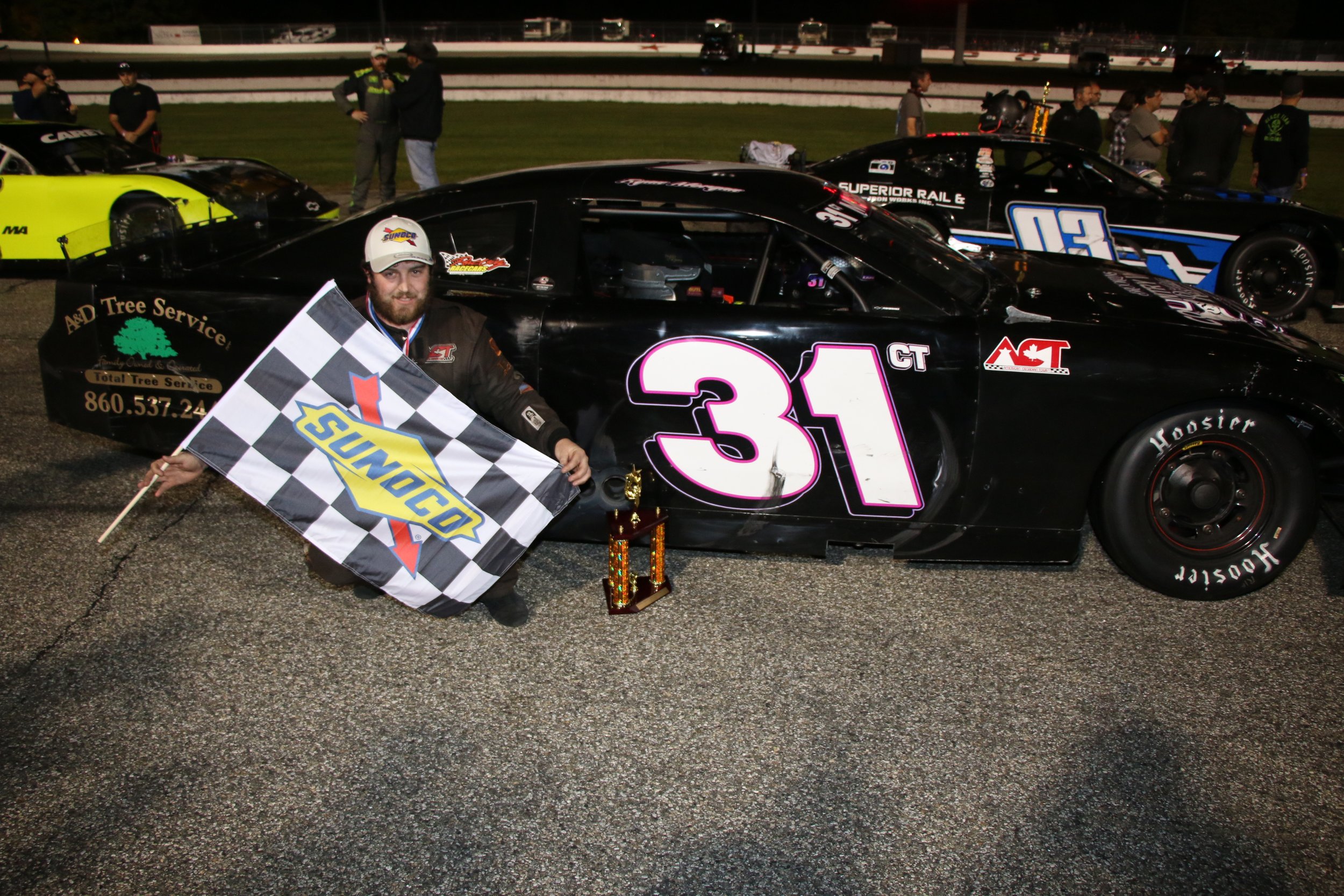 Incorrectly given the championship in victory lane, further investigation and multiple scoring re-checks found that both Derek Gluchacki and Ryan Morgan had two wins and two second-place finishes, bringing the tie-breaker down to Morgan's next highest finish of 5th on Icebreaker weekend over Gluchacki's next-best of 8th on August 17th. Morgan is officially the 2022 Thompson Speedway Late Model champion.
The special $1,000 to win Open Mini Stock event on Sunoco World Series Friday presented by Budweiser brought 16 racers from across New England into the Thompson Speedway pit area for a chance at the end-of-the-year cash. The Mini Stocks were en route to go flag-to-flag until a late hit into the turn two wall for former North East Mini Stock Tour champion Desmond Skillings brought out the lone caution. Seekonk's Mike Viens would run down the $1,000 win over White Mountain Motorsports Park champion Nick Anderson and Emerson Cayer.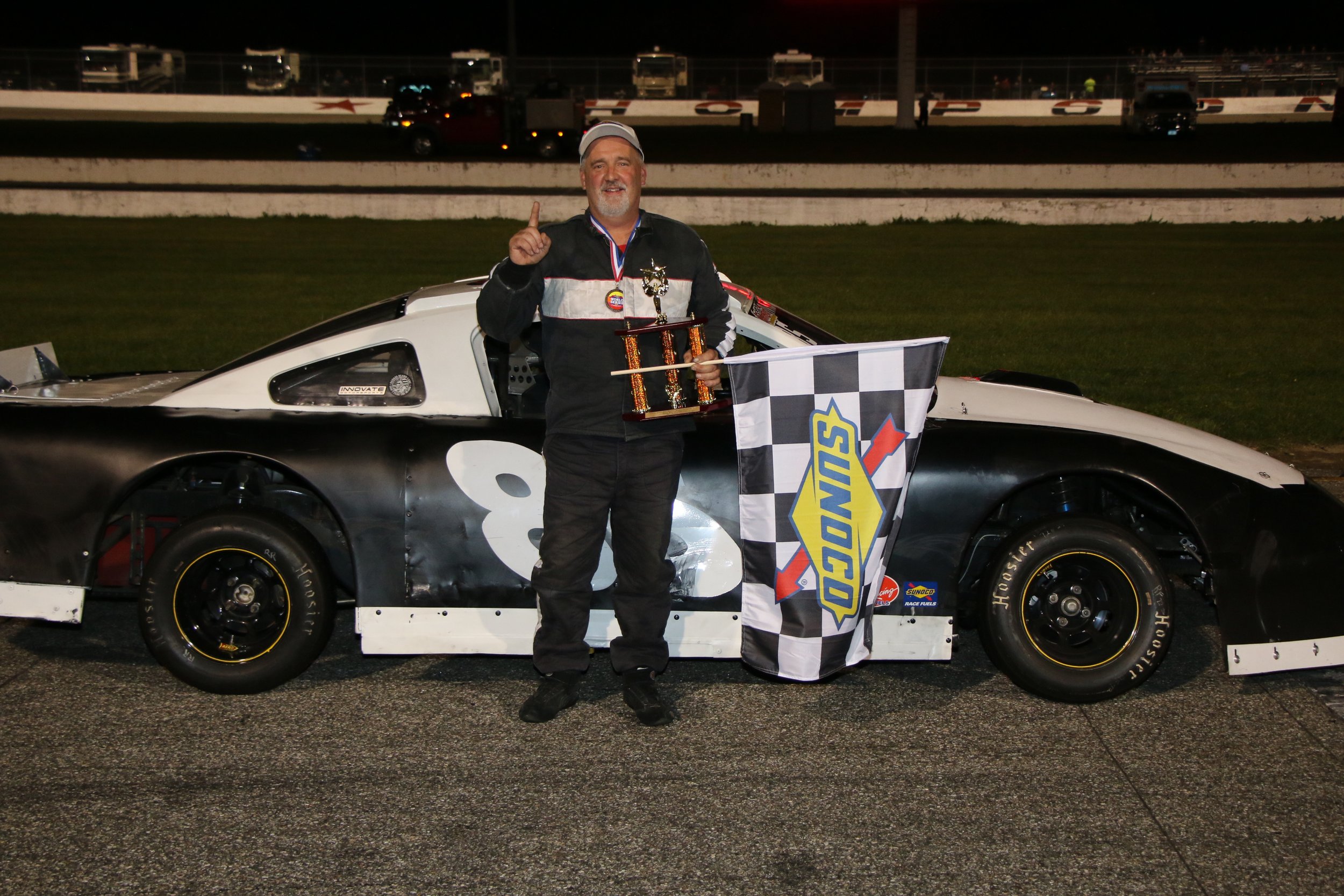 The R&R Race Parts NH Street Stock Open entered the speedway next 25-cars-strong at the onset, all of them also in search of a $1,000 grand prize in victory lane. Open Street Stock regular Christopher Buffone would bring out the first caution early for a flat right front tire while young Tanner Woodard would also lose a tire, a left front, on the restart. After the successful return to green flag racing, Chad Baxter took off like a rocket ship followed by Rob Macrae and Chris Riendeau. Buffone would also bring out another caution on lap 5 after slamming hard into the frontstretch wall and ending his night.
Single file restarts were put into place by race control giving Baxter full rein out front. Behind him, Ryan Waterman was a man on a mission. More than once Waterman cut around his competitors pushing his limits out of turns two and four, often passing multiple cars on his march to the front. Similarly, Kris Watson also began a calculated climb up through the ranks. The winner of September's $5,000 R&R Open Street Stock event at White Mountain Motorsports Park, Watson motored his way into second and began stalking Baxter.
Watson would get assistance on lap 41 with Tyler Poulin stopped broadside in the entrance to the frontstretch bringing out the final caution. The return to double file restart allowed Baxter to choose the inside lane with Watson to his outside. Watson would get the jump under the green flag and seemingly never took his foot off the gas. Kris Watson would claim the $1,000 R&R Race Parts NH grand prize followed by Chad Baxter and Shane Gendron who snuck in late to take third.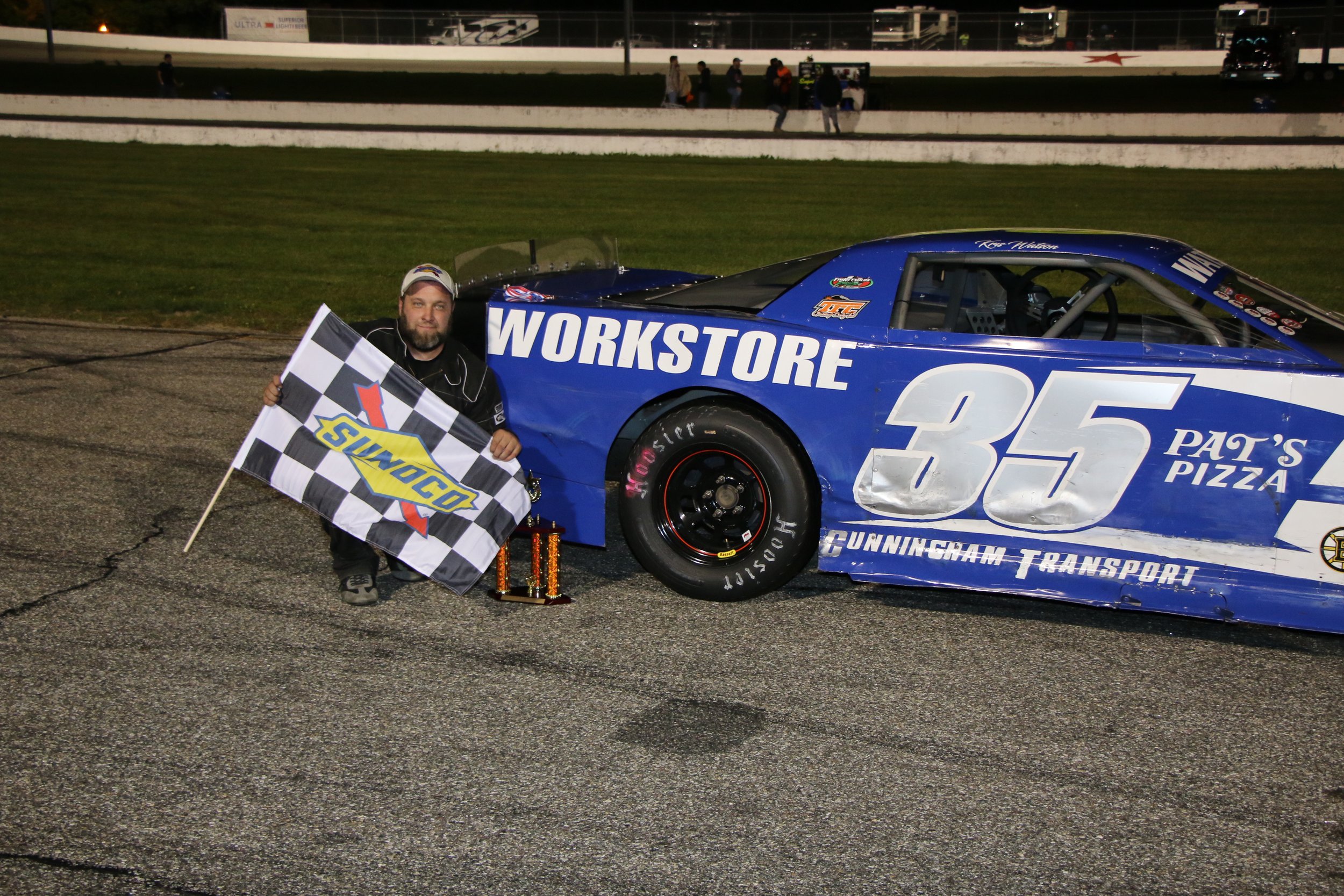 The Modified Racing Series rounded out the Sunoco World Series Friday night program presented by Budweiser with their championship round of racing. Thirty-two Tour-type Modifieds took the green flag with Craig Lutz taking the early lead over Anthony Bello and Mike Christopher Jr. Also starting early, Ronnie Williams quickly sliced his way up to third and then second in the early goings around Christopher Jr. in the Tommy Baldwin ride and Bello.
The first caution would come out on lap 41 for the stopped Tommy Barrett ride in turn three with steering issues plaguing the #17 machine. The restart would pit Williams outside of Lutz before a big caution on the frontstretch sent Mike Collins up and over the hood of Tyler Berry at the start/finish line and Kevin Iannarelli making contact that ruined his night. The second restart would see Williams power away with the lead, Max Zachem following him around Lutz before the final caution-flag flew on lap 52 for the spinning RJ Marcotte in turn four.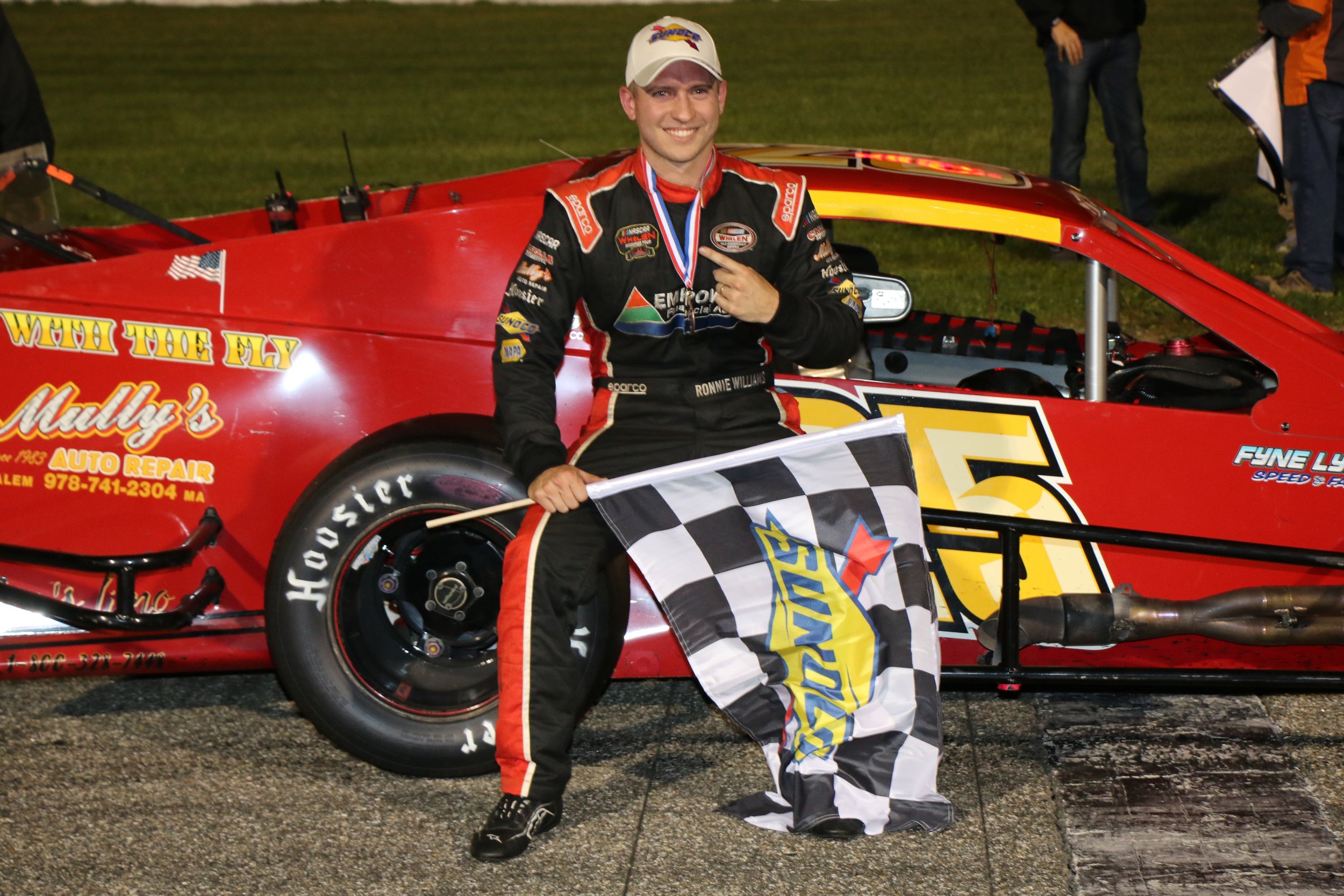 On the final restart, Ronnie Williams again pulled away on the outside lane over Max Zachem and never looked back, taking the win followed by Zachem and Eric Goodale at the line. With Jacob Perry's massive finish over Kirk Alexander, the young Granite Stater would take down the 2022 Modified Racing Series championship with his 11th place finish.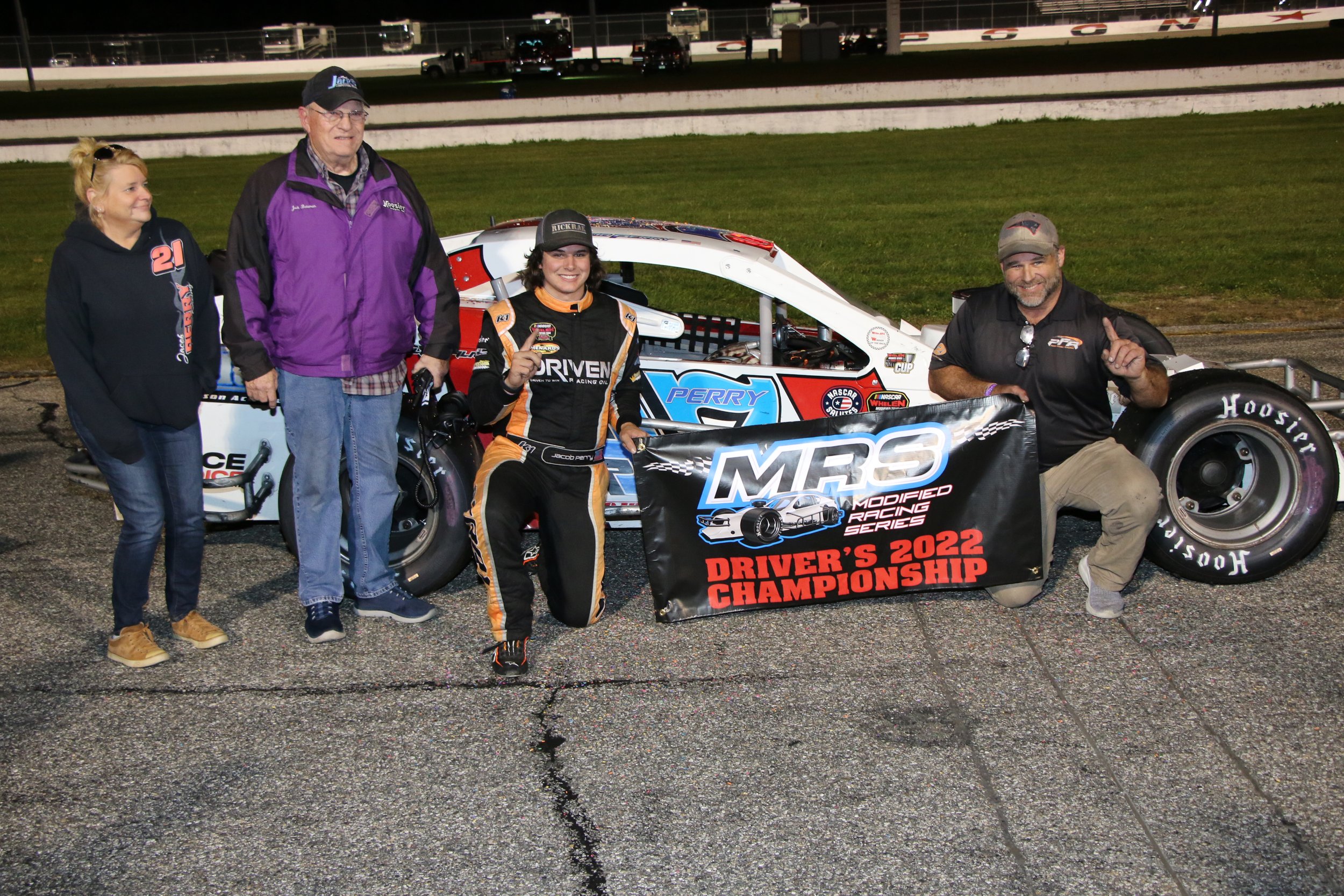 The 60th Sunoco World Series presented by Budweiser continues tomorrow, Saturday, October 8th with an epic Saturday showdown. The American-Canadian Tour and the Pro All Stars Series Super Late Models will each battle in 75 lap events alongside the $10,000 to win Outlaw Open Modified Sunoco 100, the New England Supermodified Series (NESS), Round #2 of the Weston's Automotive Triple Crown Series for the Sunoco Modifieds, Track Championship action for the local Mini Stocks, the New England Pro-4 Modified Harry Kourafas Memorial 22 and Qualifying for the NASCAR Whelen Modified Tour Sunoco World Series 150 presented by Phoenix Communications.
The epic eight-division Saturday showdown is just $35 for adults and $10 for kids aged 12-6 with Grandstand Gates opening promptly at 12:00-noon. Three and two-day (Saturday & Sunday) tickets are also available at the gate. The 60th Sunoco World Series presented by Budweiser will be broadcast live on Racing America pay-per-view, all except for Sunday's NASCAR Whelen Modified Tour event which will be shown exclusively on FloRacing.
For more information about the American-Canadian Tour, contact the ACT offices at (802) 244-6963, media@acttour.com, or visit www.acttour.com. You can also get updates on Facebook and Twitter at @ACTTour.
For technical information concerning all PASS divisions, and for media or marketing questions, please contact passracing@roadrunner.com or visit www.proallstarsseries.com. Don't forget to "Like" the Pro All Stars Series on Facebook or follow on Twitter @PASSSLM14 to keep up with breaking news as it happens.
For general Thompson Speedway inquiries, call (860) 923-2280, email oval@thompsonspeedway.com or visit www.thompsonspeedway.com. You can follow Thompson Speedway on Facebook and Instagram at @ThompsonSpeedway or on Twitter at @ThompsonSpdwy.
Thompson Speedway Motorsports Park – Thompson, CT
60th Sunoco World Series presented by Budweiser Night #1
Friday, October 7, 2022
UNOFFICIAL RESULTS
Modified Racing Series – 75 Laps
1. 25 Ronnie Williams
2. 20 Max Zachem
3. 58 Eric Goodale
4. 25M Matt Swanson
5. 00 Craig Lutz
6. 2 Anthony Bello
7. 3 Jake Johnson
8. 7NY Mike Christopher Jr.
9. 81 Todd Owen
10. 29 Spencer Davis
11. 47 Jacob Perry
12. 06 Sammy Rameau
13. 57 Keith Rocco
14. 45 Brett Meservey
15. 88 Woody Pitkat
16. 76K Matt Kimball
17. 48 Marcello Rufrano
18. 31 Andrew Charron
19. 55 Ryan Doucette
20. 21 Tyler Berry
21. 35 Andrew Molleur
22. 76 Kirk Alexander
23. 66NH Andy Shaw
24. 5A RJ Marcotte
25. 27MA Derek Robie
26. 02NY Allen Peterson
27. 43 Devin O'Connell
28. 02 Mike Collins
29. 16F Colbey Fourtnier
30. 27I Kevin Iannarelli
31. 17B Tommy Barrett
32. 81x Josh Zentek
R&R Race Parts NH Street Stock Open – 50 Laps
1. 35 Kris Watson Kenduskeag, ME
2. 0 Chad Baxter Pascoag, RI
3. 7MA Shane Gendron Tyngsboro, MA
4. 75 Ryan Waterman Danielson, CT
5. 4VT Chris Riendeau Springfield, MA
6. 68 Tanner Woodard Waterbury Ctr., VT
7. 4 Tommy O'Sullivan Wilbraham, MA
8. 12 Bo Norman Clinton, CT
9. 67 Aaron Plemons Uncasville, CT
10. 8 Crystal Serydynski Johnston, RI
11. 52 Ron Macrae Billerica, MA
12. 22T Tim Poulin Thompson, CT
13. 30 Andrew Morin Nashua, NH
14. 71 Donny Silva Hudson, ME
15. 19 Ryan Lineham Hope Valley, RI
16. 81 Josh Gerard W. Wareham, MA
17. 46 Jason Finkbein Manchester, CT
18. 7x Troy Waterman Danielson, CT
19. 38 Jon Porter E. Lyme, CT
20. 22 Scott Serydynski Jr. W. Greenwich, RI
21. 2 Christopher Buffone Belchertown, MA
22. 116 Jimmy Silva Millville, RI
23. 7 Paul Newcomb Plymouth, MA
24. 81G Jessie Gleason Lisbon, CT
DNS 43 Adam Petty Assonet, MA
Thompson Late Models – 30 Laps
2022 Track Champion – Ryan Morgan
1. 31CT Ryan Morgan N. Franklin, CT
2. 03MA Derek Gluchacki N. Dartmouth, MA
3. 5MA Tom Carey III New Salem, MA
4. 91CT Woody Pitkat Bellingham, MA
5. 17 Matt Lowinski-Low Milford, MA
6. 37 Jordan Hadley Waterford, CT
7. 68 Corey Dimatteo Farmington, CT
8. 30 Jacob Burns E. Greenwich, RI
9. 4CT Reese Bogue Groton, CT
10. 38RI Connor Souza Riverside, RI
11. 22RI Mark Jenison Warwick, RI
12. 11 Corey Fanning Maplewood, RI
13. 50RI Mike Benevides Westerly, RI
14. 2CT Doug Curry Bozrah, CT
15. 66MA Brett LeBlanc Uxbridge, MA
16. 9MA Brian Tagg Oxford, MA
17. 6x Nick Johnson Rehoboth, MA
18. 13 Donald Macrino Waterford, CT
Weston's Automotive Triple Crown Series for Sunoco Modifieds – 30 Laps
1. 179 Stephen Kopcik Newton, CT
2. 3 Troy Talman Oxford, MA
3. 6CT Cory DiMatteo Farmington, CT
4. 82 Mike Christopher Jr. Wolcott, MA
5. 81 Todd Owen Somers, CT
6. 57 Keith Rocco Berlin, CT
7. 34 David Arute Stafford, CT
8. 7 Jon Puleo Branford, CT
9. 18 Tyler Berry Griswold, CT
10. 27A Adam Gada Bozrah, CT
11. 88 Mark Bakaj Lebanon, CT
12. 5 RJ Marcotte Millville, CT
13. 08 Nick Halkowicz Shelton, CT
14. 02 Paul LaPlante Scituate, RI
15. 62 Cody Rose Worcester, MA
16. 44 Darin Renihan Woodbury, CT
17. 26 Jason Sundeen Douglas, MA
18. 28 Rich Gautreau
19. 1x Tyler Leary Hatfield, MA
Mini Stock Open – 30
1. 85 Mike Viens Seekonk, MA
2. 55 Nick Anderson Oxford, MA
3. 88 Emerson Cayer Contoocook, NH
4. 63 Nick Maniatis Manchester, NH
5. 18 Jacob Rheaume Rochester, NH
6. 12 Joey Kendall Sterling, MA
7. 9CT Rick LaFlesh Griswold, CT
8. 1NH Kenny J. Marrier Newfields, NH
9. 82 Kevin Moore Moosup, CT
10. 84 Bill Schoeler Warwick, RI
11. 81CT Jared Roy Sterling, CT
12. 90 Desmond Skillings Antrim, NH
13. 97 Dave Trudeau Mansfield, CT
DNS 44 Steve Michalski Brooklyn, CT
DNS 7 Kyle Wing N. Windam, CT
DNS 44CT Russ Barboza Colchester, CT